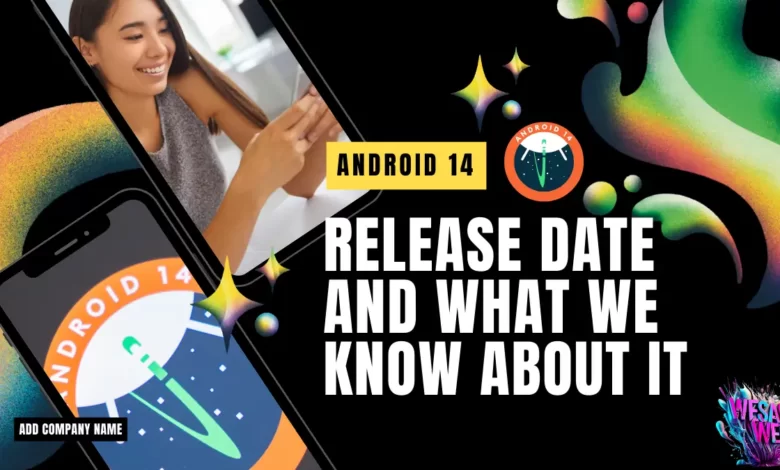 In this article, we will unveil what to expect in the new Android 14 release from Google, including its introduction and possible release date.
Google is working on Android 14, the most significant update to this operating system in 2023. The yearly release pattern of Android versions shows that many valuable features are still awaiting users of this popular open-source operating system.
Although it may sound strange, Android 14 is, in fact, the thirty-fourth version of the Android operating system. Some versions, like Android 8.1 Oreo or Android 12L, were intermediate releases that added to the number of versions released with minor changes from the original.
Android 14 release date
As with previous versions, Android 14 will follow a specific timeline for its release, but Google has not yet announced the exact release date. The versions released so far of this operating system include:
February: Android 14 Developer Preview 1
March: Android 14 Developer Preview 2
April: First Android 14 Beta
May: Second Android 14 Beta
June: Android 14 Beta 3 (System Stability)
July: Android 14 Beta 4
August: Android 14 Beta 5
Based on the beta versions released so far, we can expect the final version to be released in September or October, as most major Android updates have historically occurred in these months.
New Features in Android 14
As of the time of writing, Google has not revealed much information about the new features of Android 14. However, a few areas have been considered, and there are some features to look forward to.
Satellite Communications
The iPhone 15 includes a satellite communication feature for emergencies, allowing direct communication with satellites when no Wi-Fi or data connection is available. Hiroshi Lockheimer, one of the principal founders of Android since Google acquired it, has already confirmed that Android 14 will also feature the same capability.
A Separate Update for the Share Menu
The file-sharing menu in Android is an essential part of the operating system. This menu appears when you want to share photos, videos, or apps with specific people.
Updating the share menu requires a complete system update, but Android 14 may make it a separate update module. This would allow Google to update this section more efficiently and quickly than before.
Adapting Apps to Different Screen Sizes
In the era of foldable phones, adapting apps to different screen sizes is an important criterion. Google is working on updating its list of most compatible apps with foldable phones, allowing developers to see additional sizes of their apps before release.
Regional Priorities
Android 13 introduced language settings for apps, and it seems Android 14 is taking this concept to new formats. The new "Regional Settings" feature lets you customize your preferred settings for weather units, calendar format, or numbers.
For example, most Iranian users use Celsius for weather displays, which previously required manually changing from Fahrenheit to Celsius. You will no longer need to perform these additional tasks by setting the regional time to Persian.
Better Support for Physical Keyboards and Mice
After adapting apps to different displays, it's time for Android 14 to support physical peripherals better. Google is preparing to add support for modifier keys, including Caps Lock, Ctrl, Alt, and Windows. There might also be more options for how touchpad gestures and scrolling work.
Customizing Lock Screen Shortcuts
Customizing your device's lock screen is not a new feature for Android, but it has mostly been limited to Samsung phones. In Android 14, this feature will be a general feature, greatly helping users access it more easily.
Previously, Google determined the shortcuts on the lock screen, which might not have been what you needed. Android 14 gives you slots on the right and left for a flashlight, Do Not Disturb (DND), camera, Google Wallet, mute, Google Home, QR code scanner, or video camera. Of course, not all of these will apply in Iran.
Removing Pre-installed Apps
Some Android devices have many annoying pre-installed apps, ranging from care programs to games. Android 14 may include a section in the developer options to remove "background-installed apps." Whether this feature will be specific to Android 14 or 15 is unclear.
Changing the Back Gesture Animation
The back gesture animation in Android isn't always the best, especially as apps don't always define where the gesture will go. To make this more apparent, Android 14 will show you where the back motion will go when you use it. This means that when you swipe from the edge of the screen, you will see a preview of the previous screen.
More Sensitivity When Installing Apps
When you try to download and install an app outside of the Play Store, you are downloading the app onto your phone, which you can easily do in Windows 11. Android 14 is now more intelligent and won't download apps that require Android 6 or older.
Automatically Switching Between SIM Cards
Currently, using dual SIMs in an Android phone can be somewhat inconvenient. If your primary SIM card doesn't have good reception, you must manually switch SIM cards. There's a new option in Android 14's settings where users can choose "Automatically Switch Mobile Data," Android will try to change SIM cards based on mobile data coverage. It's worth noting that iPhones have had this feature for several years.
App simulation
App emulation used to be something you needed third-party apps or a Samsung phone for. For example, you can have two separate accounts on WhatsApp or Telegram and Android 14 may officially bring this feature to your phones, so there will be a new "Clone Apps" section in the apps list. Naturally, not all apps will be available for cloning, as developers and builders can choose to use this feature!
Using an Android Phone as a Webcam
Last year, Apple allowed iPhones to be used as webcams, and now Google is looking to add this feature to its Android devices. This ongoing project enables you to connect your Android device as a USB video class webcam to other systems, unlike iPhones, which are limited to specific devices.
Password Support for Apps
Android 14 will introduce passwords, fingerprint sensors, and facial recognition as a new feature for accessing installed apps. Dashlane and 1Password, both password management systems, have already confirmed that Android 14 will bring new security features for app access.
Expanded Media Access Permissions
In iOS 14, iPhones introduced a new feature where apps could only access selected photos. Android 14 might now have a similar part. When an app requests media access, you can grant access only to the files you want or allow the app to access all files. It's not clear whether this feature will be in the final release of Android 14, but it's certainly a welcome change.
Nickname of Android 14 or Upside-Down Cake
A code change in the open-source Android project (AOSP) reveals that the official internal codename for Android 14 is "Upside Down Cake." For a long time, Google had a tradition of assigning dessert-themed codenames to each major release of the Android operating system. However, this naming convention was discontinued after Android 9 Pie in 2018. Since then, Android 10, Android 11, Android 12, and Android 13 have been released with more straightforward names.
Perhaps the public dessert names have ended, but the internal codenames continue. Android 10's internal codename was "Tart Queens," Android 11's was "Red Velvet Cake," Android 12's was "Snow Cone" or "Snow and Sap," and Android 13's was "Tiramisu."
Android 14 Update; List of Eligible Phones
We all know that Pixels will be the first to receive Android 14. But what about other phones eligible for Android 14?
Google
Given that Google owns the Android system, it's unsurprising that most of its phones will receive Android 14. Some older Google phones might not, but 2020 models and newer versions will get the latest OS. Therefore, once Google releases Android 14 in the third quarter of 2023, the following phones will be ready to receive it.
Additionally, it's expected that Google's latest phones, Pixel 7a and Pixel Fold, will also receive Android 14. However, Google hasn't officially added these phones to the update list yet, so we can't be sure when that will happen.
According to Google's update policy, Google Pixel devices receive three years of operating systems and five years of security updates.
Pixel 4a (5G)
Pixel 5
Pixel 5a
Pixel 6
Pixel 6 Pro
Pixel 6a
Pixel 7
Pixel 7 Pro
Pixel Fold
Pixel Tablet
Samsung
Samsung is known for providing strong software support. The company promises four Android system updates for most phones, with mid-range phones usually receiving three updates. The list below is not exhaustive, given the wide variety of Samsung phones eligible for Android 14. Here are some of the important Samsung phones that will receive Android 14:
Galaxy S series
Galaxy S23+
Galaxy S23
Galaxy S22 Ultra
Galaxy S22+
Galaxy S22
Galaxy S21 FE
Galaxy S21 Ultra
Galaxy S21+
Galaxy S21
Galaxy S20 FE 5G
Galaxy S20 FE
Galaxy S24
Galaxy A series
Galaxy A73 5G
Galaxy A72
Galaxy A53 5G and Galaxy A54
Galaxy A52 (A52 5G and A52s)
Galaxy A33 5G
Galaxy A23 5G and Galaxy A24
Galaxy A14
Galaxy A13
Galaxy A04s
Galaxy A04e
Galaxy M or F series
Galaxy M53 5G and Galaxy M54
Galaxy M33 5G
Galaxy M23
Galaxy F23
Galaxy F13
Galaxy M13
Galaxy M13 5G
Galaxy F04
Galaxy F54
Galaxy F14 5G
Galaxy XCover series
Galaxy XCover 6 Pro
Galaxy Tab
Samsung is known for speeding up Android updates each time. In 2022, the Korean tech giant updated all its eligible flagship phones to Android 13 before the end of the year. We can expect the same in 2023.
In other words, if you own a Galaxy S or Galaxy Z phone listed above, you'll likely get Android 14 by the end of 2023. Note that the Android 14 update for some Galaxy A phones on the list may be delayed until 2024.
Asus
Asus phones qualify for two years of operating system updates and security patches. So, we know that the following phones will receive Android 14:
Asus Zenfone 10
ASUS ROG Phone 7 and its variants
Asus Zenfone 9
ASUS ROG Phone 6 and its variants
Phones already released, including the Zenfone 8 series, have already received Android 13, the latest version promised by Asus so they won't get Android 14.
Motorola
Lenovo manufactures Motorola phones; the only device confirmed to receive Android 14 so far is the Lenovo Tab Extreme. The Wi-Fi version of this tablet is now also eligible for the Android 14 beta. Furthermore, Lenovo ThinkPhone is expected to receive Android 14 eventually.
The latest Motorola flagship phones (Motorola Edge Plus 2023) are expected to receive the Android 14 beta soon, although the exact timing is unknown. Motorola Razr (2023) and Razer Plus (2023) may also get the beta. However, we'll have to wait and see Motorola's plan.
Motorola's flagship smartphones receive two Android OS updates and two or three years of security patches, while its budget phones receive one OS update and two security patches. Expected Motorola devices to receive the Android 14 update are:
Lenovo ThinkPhone
Motorola Edge (2021) (Motorola Edge 20 outside the US)
Motorola Edge (2022) (Motorola Edge 30 outside the US)
Motorola Edge Plus (2022) (Motorola Edge 30 Pro outside the US)
Motorola Edge 20 Pro
Motorola Edge 30 Fusion
Motorola Edge 30 Neo
Motorola Edge 30 Ultra
Motorola Moto X40
Motorola Moto G13
Motorola Moto G23
Motorola Moto G53
Motorola Moto G73
Motorola Moto G5G 2022
Motorola Moto G Style 5G 2022
Motorola Moto G42
Motorola Moto G52
Motorola Moto G62 5G
Motorola Moto G72
Motorola Moto G82 5G
Motorola Razr (2022)
Honor
Honor phones benefit from two years of Android operating system updates and security patches. The expected Honor devices to receive the Android 14 update are as follows:
Honor 70
Honor Magic 4
Honor Magic 4 Pro
Honor Magic 4 Ultimate
Honor Magic 4 Pro+
Nokia
Nokia phones will receive two operating system updates and two or three years of security patches. Therefore, the expected Nokia devices to receive the Android 14 update are as follows:
Nokia G11 Plus
Nokia G60 5G
Nokia X10
Nokia X100
Nokia X20
Nokia X30
Nokia XR20
Noting
Currently, there is nothing confirmed for either Note 1 or Note 2. Note 1 was launched with Android 12 and runs on Android 13. Note 3 is expected to get an Android update, which means the mentioned company is bringing Android 14 to the phone.
OnePlus
OnePlus has promised 3 Android system updates for most of its flagship phones. The latest OnePlus phone, the OnePlus 11, will receive 4 Android system updates. Therefore, the following devices are expected to receive Android 14:
OnePlus 11
OnePlus 11R
OnePlus 10 Pro
OnePlus 10R
OnePlus 10T
OnePlus 9 Pro
OnePlus 9
OnePlus 9RT
OnePlus Nord 2T
OnePlus Nord CE 2 Lite 5G
OnePlus N300 5G
OnePlus 2
OnePlus 2 Pro
OnePlus 2T
OnePlus Nord CE 2 5G
OnePlus Race
The OnePlus 11 has access to the Android 14 beta, but several known issues may break the phone when installed. If you have a OnePlus flagship device like the 8T, 9/9 Pro, or 10 Pro/10T, you will see Android 14 sooner than other OnePlus devices. Additionally, the newer your phone is, the faster you will receive the upgrade. Users of older devices may also get Android 14 in 2024.
Xiaomi
The beta version of Android 14 is available for a few Xiaomi phones, including Xiaomi 13 Pro, Xiaomi 13, and Xiaomi 12T.
We can expect other significant phones to be on the list to receive Android 14, although it's not clear when other phones will get access to the beta version. The expected Xiaomi devices to receive the Android update are:
Xiaomi Poco F4
Poco F4 GT Xiaomi
Xiaomi Poco M4 5G
Xiaomi Poco M5
Xiaomi Poco M5 Pro
Poco X4 GT Xiaomi
Xiaomi Poco X5
Xiaomi Poco X5 Pro
Xiaomi Redmi Note 12
Xiaomi Redmi Note 12 Explorer
Xiaomi Redmi Note 12 Pro
Xiaomi Redmi Note 12 Pro+
Xiaomi 11T
Xiaomi 11T Pro
Xiaomi 12
Xiaomi 12 Lite
Xiaomi 12 Pro
Xiaomi 12 Ultra
Xiaomi 12S
Xiaomi 12S Pro
Xiaomi 12S Ultra
Xiaomi 12T
Xiaomi 12T Pro
Xiaomi 13
Xiaomi 13 Pro
Xiaomi Mix Fold 2
Xiaomi 14 Pro
Oppo
Oppo stands out by providing the beta version of Android 14 for its foldable phone, and it is the only company on this list to do so. Interestingly, Find N2 Flip is the only Oppo phone with access to the beta version. At the same time, the latest Find X6 Pro can still not access it.
Naturally, the latest flagship phones from Oppo will eventually get access to the beta version. Like OnePlus, the latest Oppo flagship phones are expected to receive Android 14 first, and then older flagship phones will benefit from it.
Mid-range and budget phones may or may not receive Android14, let alone access to the beta. Based on the brand's previous performance, we expect the following phones to get the Android 14 update:
Oppo Find X5 Pro
Oppo Find X5 5G
Oppo Find X5 Pro+
Oppo Find N2 Flip
Oppo Reno 9 Pro+
Oppo Reno 9 Pro
Oppo Reno 9
Oppo Reno 8 Pro
Oppo Reno 8
Oppo Reno 7 Pro 5G
Oppo Reno 7 5G
Oppo Reno 6 Pro 5G
Oppo Reno 6Z 5G
Oppo Reno 6 5G
Oppo K10 Series
Oppo F21 Series
Oppo F19 Series
Oppo A96
Oppo A58 5G
Realme
With the Realme 9 and GT2 series, the Chinese brand has improved its update policy for its mid-range and flagship models. Realme phones receive at least two Android OS updates and three years of security patches.
The beta version of Android is currently available on the Realme GT2 Pro. However, there are restrictions; for example, only the Indian version qualifies. Expected Realme devices to receive the Android 14 update are:
Realme Number Series
Realme 4G 9
Realme 5G 9
Realme 5G Speed Edition 9
Realme 9 Pro 5G
Realme 9 Pro Plus
Realme 4G 9i
Realme 5G 9i
Realme 10
Realme 5G 10
Realme 10 Pro
Realme 10 Pro Plus
Realme 10 S
Realme C Series
Realme C35
Realme C33
Realme C30s
Realme GT Series
Realme GT 2
Realme GT Master Edition
Realme GT Neo 2 5G
Realme GT Neo 3
Realme GT Neo 3 Pro
Realme GT 2 Pro
Realme GT 2 Explorer Master
Realme GT 5
Realme Narzo Series
Realme Narzo 50
Realme 5G Narzo 50
Realme Narzo 50 Pro 5G
Realme Narzo 50A Prime
Realme Narzo 50i Prime
Realme Q Series
Realme Q5
Realme Q5 Pro
Realme Q5i
Sony
Sony's support for Android is not great. The company promises only two Android updates for its expensive flagship phones. Therefore, the list of Sony phones likely to receive Android 14 is very short.
Naturally, the Xperia 5 V and possibly 10 V are expected to be released in 2023. While we don't know the release date, these phones will also receive Android 14. According to the timeline, Xperia 2023 phones are expected to be the first to receive Android14.
We expect them to receive beta versions by the end of 2023 and a stable release in early 2024. Sony might surprise its users by launching a stable version before the end of the year, but that cannot be said for sure. The following phones are expected to be updated to Android 14:
Sony Xperia Series
Sony Xperia 1 Volt
Sony Xperia 5 IV
Sony Xperia 1 IV
Sony Xperia 10 IV
Many manufacturers have improved their update policies in 2023, which is expected to further improve with the release of Android 14. Regarding flagship devices, the most prominent brands are now working on standardizing at least three Android system updates. Unfortunately, not all have extended these revised policies to include older models.
Please note that this article will be continuously updated as Android 2023 updates continue to roll out. For this reason, we recommend checking the article In the Wesam Web occasionally to see if an update is available for your phone.